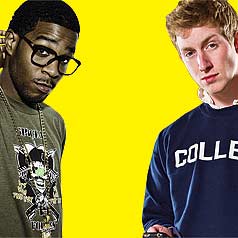 "OMG, it's the "Day 'N Night" guy and the "I Love College Guy." That statement basically sums up The Great Hangover Tour which recently made its stop at the House of Blues right next to Fenway Park. What I have previously known as a guido hotspot, was actually the venue for a much anticipated rap concert…say whattt. Needless to say, I had a very fun time.
With the concert doors "opening" at 7 and me getting off of work at 5, that left little time for me to pound maximum beers. Instantly, my buddy and I go to the cheap bar up the street and try to force down as many $1.50 drafts as humanly possible. It worked out to a marginal extent, so we decided just to cab down there just in case. Let me tell ya, this line was packed. Not your standard packed line, but an anomaly of a line. The most white people per square mile one could ever imagine at a rap concert. Oh and the average age was about 15, let's go! Saying "fuck that" to that line, we decide to go to the expensive Game-On bar and buy $8 tall boy vodka tonics (::someone in the distance screams FAGS::). Feeling strangely tired and not that drunk, we decide to test our fate with the line.
Upon getting in, we separate ourselves from the youth of a nation, by making our way to the 21+ upstairs area. We struggle to get a drink and then struggle to get a good spot on stage. Times are certainly not easy, but I always say you got to pay the cost to be the boss. Wait that was Snoop? God dammit. Avoiding digression, I continue. I have been pounding out some Cudi in recent days before said concert, so I felt prepared for his antics. I wasn't. Dude emerged on stage, by himself, with a big ass projection screen behind him displaying weird ass images. Then he rocked the house. Came out in a top hat, tight shirt and jeans, and some Converses, spoke his mind, and got out of there. Shit was great. Rap's changing right before my eyes. It is also avidly clear that there is no way this dude would have made it in the 90s.
After Cudi finished, I made it a goal of mine to get a beer before Asher came out for the famed "chug" part of "I Love College." 28 minutes of bullying scary thin disease ridden girls and juking large guido-ish men, I received my beer. Asher came out in his god damn element--Predominantly college crowd, strange amount of white people, and beers everywhere. With his self-professed sidekick Bangley and his fake Quest Love drummer, he got shit started with his first prop of the night, a green go-kart. There was also a comically large fake blunt and his boy Bangley running around in a lion suit. Awesome time. Even had these two random floosies come up and dance with me and my boy. No numbers were achieved, but who gives a shit. I could say I was at Asher and Kid Cudi's first real concert apart of their first real tour. These guys will be around for awhile and I can say I was there for the start of it all.
Download "A Kid Named Cudi" and "Asleep In the Bread Aisle."