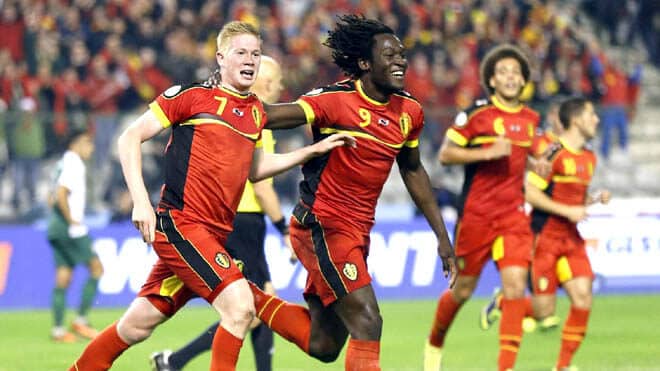 This is probably the least I'll ever feel like saying this, but
I told you so
. The United States national team put in the kind of workmanlike, gutsy performance that we've come to expect from them. However, they were outclassed from the beginning. This game could have easily been 4-1 if not for the heroics of keeper Tim Howard and the U.S. quite clearly did not deserve to win.
The USA Defense: Great and Terrible
Matt Besler and Omar Gonzalez were immense at the back yesterday for the stars and stripes. This cannot be overstated. Gonzalez was terrific defending set pieces (corner kicks and free kicks for the uninitiated) and making last ditch sliding challenges while Besler constantly cut out crosses from the run of play (everything that isn't a set piece) and closed down the space in which the Belgian forwards could operate. That being said, they put themselves under more pressure than they needed to with their distribution.
When the U.S. was losing near the end of extra time we saw the U.S. defense, Besler especially, not only winning the ball but keeping it. Instead of booting the ball upfield or out of play, they would make a short pass or a simple turn on the ball to retain possession and start an attack. I understand that earlier in the match they made the "smart" and "safe" plays by just clearing the ball and regrouping as opposed to risking a turnover near their own goal. But at what point do these plays become less "smart"? The United States backline was under near constant siege in the second half and it was evident that they were growing more and more tired. Making positive passes to their midfielders and allowing the U.S. to pressure the Belgian defense, though it would technically be a more risky option, would have offered Besler and Gonzalez much more of a respite from the ultra physical Belgium attack that wore them down.
Cameron or Beckerman, Who ya Got?
Many were surprised by, and even critical of, Coach Jurgen Klinsmann's decision to deploy Geoff Cameron in a holding midfield role as opposed to Kyle Beckerman. Critics can rightly point to Beckerman's ability to read play and break up opposing attacks as well as the way he helps the team as a whole keep its defensive shape. However, Klinsmann decided that Cameron's height (6'3" to Beckerman's 5'10") was more valuable against a very tall and strong Belgium team in set piece situations, of which there were plenty. So who was the right choice?
In my opinion both. Or neither. Or whatever. With Belgium you really have to pick your poison. You can try to counter their smooth midfield build up and interplay with Beckerman or you can go the Klinsmann route and opt for Cameron to help on set plays. Belgium really does just have too many ways to attack a defense, one of the many reasons they are such a threatening international force. Let's not forget that Cameron has experience in the holding midfield role and is quite adept at breaking up play himself, though maybe not quite as much so as Beckerman. With Klinsmann's track record of preferring European based players to MLS players (Cameron plays for the English Premier League's Stoke City while Beckerman plays for Real Salt Lake in MLS) this decision should have come as no surprise to U.S. soccer fans.
Player Ratings (1-10, 5 being average)
Tim Howard, GK (10) - As mentioned above, Howard was gargantuan for the USMNT. Set a record for most saves in a World Cup game with 16 including keeping out some golden opportunities for Belgium. Cannot be faulted a single bit for yesterday's result.
Fabian Johnson, RB (6) - Defended well though didn't get forward down the right as much as usual before coming off with a pulled hamstring in the 32nd minute. Given that he was one of the best U.S. attacking options in the World Cup, it's tough not to wonder what he could have produced if he had been able to play the whole match.
Omar Gonzalez, RCB (7) - Had a shaky moment here and there as he always does but made a number of last ditch sliding tackles and blocks. Was massive for the U.S. as he was the main reason they successfully defended every set piece.
Matt Besler, LCB (6.5) - Has really established himself as a top drawer defender and played a brilliant 119 minutes out of 120. However, he'll have nightmares about how easily Romelu Lukaku shrugged him off in the build up to the opening goal.
DaMarcus Beasley, LB (6) - One on one defending was great early and constantly probed down the left flank looking to get behind the Belgian defense but his crosses left a lot to be desired. Was clearly tired by the time Kevin Mirallas entered the game and was beaten on the dribble by Mirallas on more than one occasion.
Geoff Cameron, CDM (5.5) - Relished the physical battle with Fellaini in the middle of the park and was great on set pieces. Actually looked to play through Belgium defensive pressure on occasion unlike his midfield teammates.
Jermaine Jones, CM (4) - Almost completely anonymous in midfield. Seemed to think he could recreate his Portugal goal at will as he popped up a few times late in the extra period with some wasteful efforts from long range.
Graham Zusi, RM (3.5) - Poor showing from the Sporking KC man. Lucky that his lack of defending in the first half didn't lead to anything. Looked to tuck infield to allow Johnson/Yedlin to overlap but nothing of real attacking substance came from his flank. His delivery on corners was pretty good before being replaced by Wondolowski in the 72nd minute.
Michael Bradley, CAM (5) - Was his usual harrying self as he looked to put the Belgian midfield under pressure when the U.S. lost the ball. Showed flashes of brilliance with his assist to Green and a few balls that sent Beasley into space on the left but struggled to consistently make accurate passes, especially in the mid-range, and couldn't get the U.S. attack going.
Alejandro Bedoya, LM (4.5) - Put in his usual solid defensive shift but really needed to offer more in attack. Occasionally involved in some decent combination play with Bradley but Beasley offered the much more potent threat on the left side, and as previously mentioned Beasley wasn't all that threatening. Removed in favor of Green for the second half of extra time.
Clint Dempsey, ST (4.5) - Starved for service and didn't do all that much with what he was given. Was more effective when he dropped into midfield upon Wondolowski's introduction. Will be disappointed he couldn't corral the pass that sent him through on goal following a brilliant piece of trickery from a U.S. set piece.
Subs
DeAndre Yedlin, RB (6.5) - Came on following Johnson's injury and looked to get forward often down the right flank. His confidence in defending the dangerous Eden Hazard belied his age (20) though he seemed to run out of ideas a few times on the attack. Played in one particularly dangerous cross that would have found Dempsey's head in front of goal but for a savvy piece of defending by Daniel van Buyten.
Chris Wondolowski, ST (3) - When he actually got on the ball he held up play and reminded U.S. fans what it's like to have a target forward on the field. Also worked his socks of helping out on defense. But his game will be remembered for the glorious chance he spurned in second half stoppage time. With the ball dropping to him in the 6 yard box and only the onrushing Courtois to beat he skewed his half-volley high, wide, and about as handsome as
Franck Ribery
Julian Green, LM (7) - Did about as much as could be expected from him in a 15 minute cameo and injected some energy into the attack. Great run and even better volleyed finish for the only U.S. goal.