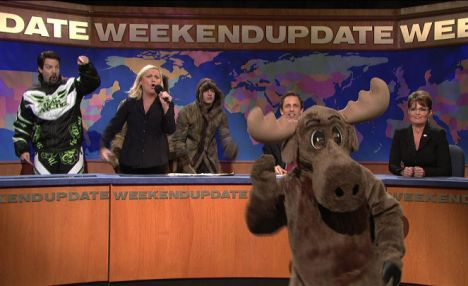 Three of my family members pronounced me dead several times this weekend because of turkey-induced coma, but alas, I am alive. Well rested and generally miserable to be back in Boston, I was able to make several observations over the weekend.
--How was Shrek the float this year at the parade? Didn't that movie come out like 8 years ago? 85% of the kids had no idea what that float was or they got the cheap extra shitty experience of watching it on DVD in the back of the mini-van. Coach Spongebob just threw the red challenge flag.
--I feel like I was blacked out drunk during both the NFL games on Thanksgiving. No idea who played and what the scores were. All I know is that I thought it was a good idea to sit Miles Austin. Shit. Keep in mind, I drank no alcohol on Thanksgiving. Damn you turkey-induced coma...
--Finally saw the "Notorious" movie. I simply couldn't buy Tupac being played by the guy who got killed by Eminem at the end of 8-Mile. It went from tragedy to comedy in an instant.
--Attempted Black Friday. My phone read 12:39 when I woke up. I feared for my mother as she braved the storm..
--I ended up watching the "
Videophone
" video like 28 times. Number 28 was definitely the best time.
--Got some embarrassing Call of Duty hand injuries. It's fine.
--Tiger Woods proves that the hoe-er the berry the sweet the juice. I literally have no idea what that means. Again, still catching residual effects of that satanic turkey-induced coma. He must have popped in Ludacris' "Area Codes" and embarked on a countrywide search. It looked like he broke Luda's wireless provider's range and got some Australian Ho-bag Skankaloon. The sketchy ass "Tiger's wife rescued him from the crash with a golf clubs and Tiger only had face lacerations" excuse did not fly with this guy. I called up the gumshoes and we did some investigating. Actually,
TMZ
did. Can't fault you Tiger, in another world (this one), I would do the same thing.
--Met the girl of my dreams on the trip back from Boston. Literally a perfect match type of situation. Talked to her for literally 8 hours about nothing. I would have sold my Playstation and got a shitty wedding ring on the spot. Then she told me she had a boyfriend. Damn.
...then again, it could have been another one of those blackout dreams created by that son of bitch turkey induced coma. Good to be back guys.