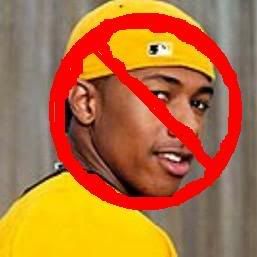 If someone can name me a wacker dude I'd be astonished. I can't believe I'm even doing a post about him, but someone had to say something.
First off, I've held a significant grudge since he ruined "All That." It seemed virtually IMPOSSIBLE to ruin that show for me. I thought Lori Beth Denberg's Vital Information was the floor for that show and I was able to tolerate that, but then this lanky, unfunny bastard came along and pooped in the punch bowl. I can list the myriad of things he's done since then (Wild'N Out fucking sucked) to ruin television and set black people back decades, but this newest endeavor is going to take the cake. His latest asshole endeavor is
an attempt to break the Guinness World Record for most hugs in one hour
.
Why won't Guinness die? That shit was interesting for like 30 seconds when they showed that unfortunate broad that can pop her eyes out. After that was dull fest. The only thing keeping that business alive are losers (read: Nick Cannon) and Rob Dyrdek. Next thing, why the Mets man? Do you know how ornery those fans are? They haven't had anything good happen to them in infinite years and you're going to hug them? There's literally a 75% chance you're going to get shanked with a jagged spork at hug number 3. Granted I'm crossing my fingers that happens, but you got to be smarter than that.
Wait, you married Mariah after she got kinda gross and lost her mind. Double wait, and you had kids with her? Nevermind. You're a lost cause