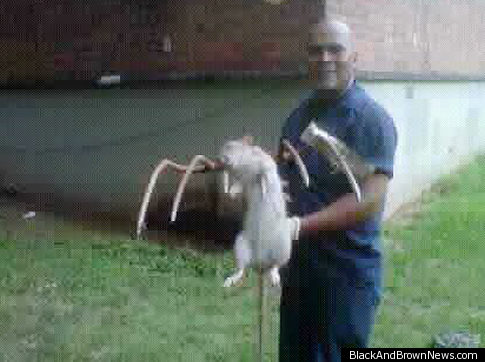 Brooklyn, stand up. Concrete jungle where outrageously large rats are made of, indeed.
I was convinced this picture was photoshopped to a hundred thousand, trillion. There is no way that a rat can be that big. Hell, there's no way that's a rat. That's clearly a medium sized dog or a big ass guinea pig.
How is my man up here grasping this pitchforked rat without vomiting and burning it with fire? Kinda impressive actually. But let's talk about the elephant in the room--the act of the rat getting pitchforked. I don't think I've ever seen a pitchfork in my entire life. Reasonably unsure of how they operate and how one gets their hands on one. I damn sure know that no one from the Marcy projects should be wielding one. That being said, good job by this random dude in having the dexterity to straight up impale this fucker. Not a run of the mill rat right by any means.
Jay-Z can NOT be happy about this type of publicity for Marcy Projects.