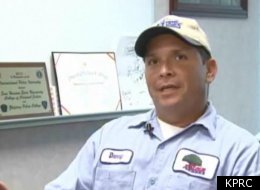 Easiest "Friends Ask Dub" ever? Are there words better than "fuck" and "no" that can describe my answer? I don't think so.
For the sake of the ludicrousness of this question, I'll dive into Danny DeLaRosa's psyche
. Dude must be a real crazy person, right? Like serious mental problems. Synapses must not synapsing or something. If I see a 5 year old boy drop a unopened lollipop, I'm taking that shit. Mainly because I'm a bad person, but more so because I truly like teaching lessons. If you give "lost" things back to irresponsible people, they'll never know they're irresponsible. You give a dude back $7000 he'll probably go home, immediately lose his baby, leave the oven on, and forget to close the garage door. It was Danny's civil duty to steal that bag of money and ultimately save this dude's baby's life.
Plus, my man has a name tag AND a tree on his shirt. If you're rockin' that devious combo, there is a 500% chance you need that money. I don't care how many tree-planting awards you have on the wall Danny that bag of money could have changed your life. At the very least you could buy a 70 inch flat-screen to make you forget how shitty your life probably is. You made the incorrect play.
PS. Who has $7000 in a brown plastic bag? You ain't Ross.